Custom Car Vinyl Graphics & Decals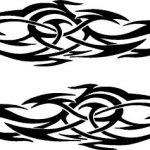 Using your vehicle, or fleet of vehicles, as a means of advertising your message or business is a huge way of grabbing attention from potential clients, or if you just want to give your vehicle a look that your friends will be talking about, talk to the The Sign Supermarket. Creating unique and eye catching designs is a service we offer, or alternatively you can bring in your own design for us to apply to your vehicle.
For further information, email us or call on 0330 223 2141 where we will be happy to go through what you need from us!